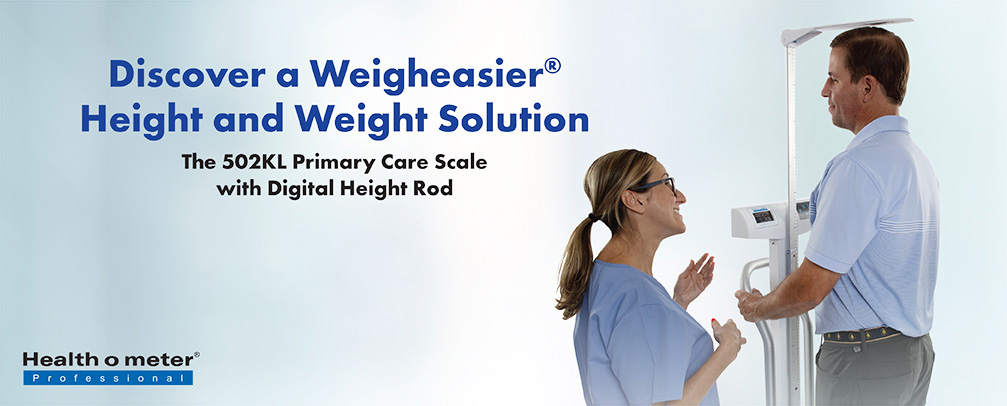 The newest member of the number-one-selling family of physician scales
McCook, IL August 30, 2023 – Pelstar LLC, the manufacturer of Health o meter® Professional Scales, the leading brand in physician scales, is thrilled to announce the launch of its 502KL Digital Scale with Integrated Digital Height Rod. This innovative and feature-rich scale sets a new standard in accuracy, convenience, and functionality for healthcare professionals.
Designed specifically for healthcare settings such as doctor's offices, hospitals, clinics, and long-term care facilities, the Health o meter® 502KL combines cutting-edge technology with user-friendly features to deliver optimal performance and ease of use. Integrating a digital height rod into the scale allows the measurement of weight and height simultaneously and automatically calculates the BMI, streamlining workflow and saving valuable time for healthcare providers. The scale offers providers and patients an eye-level weight indicator, accommodating patients weighing up to 660 pounds. The spacious non-skid platform and reinforced base enhance stability, providing a secure and comfortable patient experience.
The scale's digital interface offers a range of functions to meet the diverse needs of healthcare providers. From calculating Body Mass Index (BMI) to holding and releasing measurements, zeroing, taring, and reweighing, the 502KL provides a comprehensive solution for accurate and efficient weight monitoring. The ability to recall previous measurements, switch between KG and LB units, and perform clear and enter functions further enhances its user-friendly design.
Transporting the 502KL is effortless thanks to its best-in-class extra-wide 8" wheelbase, ensuring smooth movement across healthcare facilities. For added patient support, optional handlebars are available, enabling a secure grip during measurements. Additionally, the scale offers wireless technology options for seamless integration with existing healthcare systems, facilitating seamless data management and record-keeping.
We are proud to introduce the Health o meter® 502KL Digital Scale with Integrated Digital Height Rod," said Scott Gottman, Senior Director of Marketing and Product Development of Pelstar / Health o meter Professional. "The addition of the 502KL to the best-selling, and most EMR integrated family of Health o meter Professional line of products represents our ongoing commitment to delivering innovative solutions that enhance efficiency and accuracy in healthcare settings."
The Health o meter® 502KL Digital Scale with Integrated Digital Height Rod is exclusively available through authorized Health o meter® Professional Scales distributors. To learn more about the new 502KL, please visit our website at www.homscales.com or contact us at 1-800-815-6615.