For nearly 100 years Health o meter® Professional Scales has operated by a strong customer-focused culture with customer feedback frequently affirming the brand offers easy to use products and is the easiest scale company to work with. In acknowledgment of this feedback, Health o meter® Professional Scales formally named its company culture weigheasier®. The weigheasier® name encapsulates the company's standards and systems that consistently strive to do what is weigheasier® for the customer – whether the customer is a physician, healthcare system, distributor, or sales team. Focusing on the goal of making things weigheasier® influences what Health o meter® Professional Scales offers and how it performs, including:
Products designed to improve workflow and patient care, without the added cost of impractical technologies
Efficient and timely responses to customer inquiries and requests
Fast on-time shipping and industry-leading fill rates
Nationwide support from over 100+ field representatives
Continuous improvement initiatives utilizing customer and employee feedback programs and formal performance metrics
Policies and procedures that protect end users and distributors – ScaleSurance Extended Warranty Program, Distributor Protection Guarantee, internet Minimum Advertised Pricing (MAP) policy, company pledge of No Direct Sales, balanced GPO pricing strategy
These attributes uphold Health o meter® Professional Scales' superior service and support which extends beyond end users and includes anyone that interacts with the company, at any level.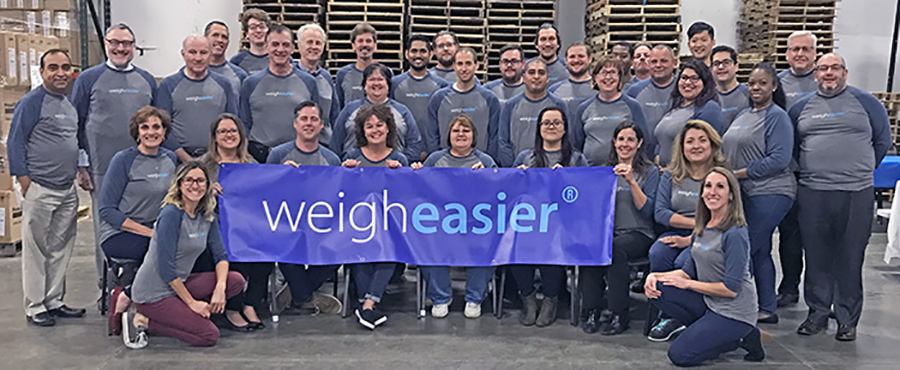 The weigheasier® principles are sustained by the strong team culture at Health o meter® Professional Scales. Our outstanding team of employees support one another in working towards the common goal of making things weigheasier® for our customers. This support is based on respect, accountability, and a positive attitude. Health o meter® Professional Scales employees understand that our business standard is to always go above and beyond customers' needs and that includes the needs of our colleagues.
Ultimately it is because of our weigheasier® culture that the company has achieved the status of the #1 medical scale brand in the USA. Choosing the right scale brand doesn't have to be overwhelming. Make it weigheasier® to decide by choosing the brand that makes it weigheasier® for you, Health o meter® Professional Scales.